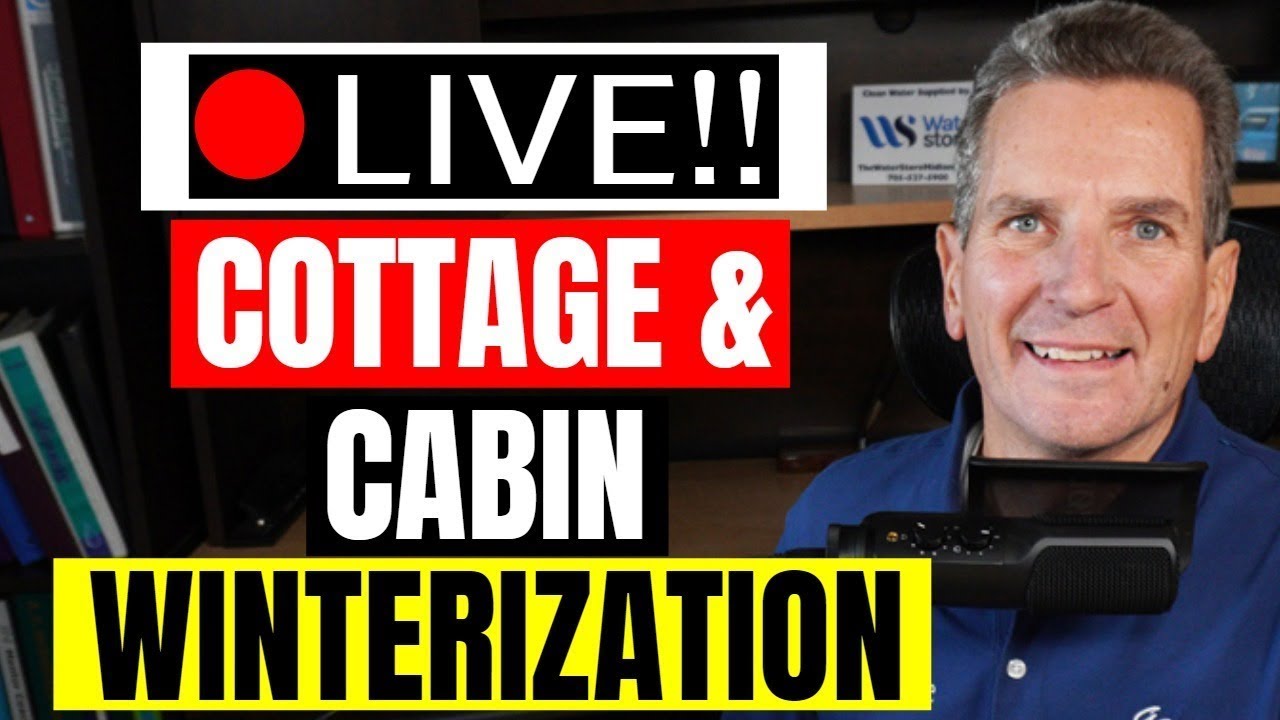 It's mid-October which means temperatures are quickly dropping and it's time to start preparing for the changing of the seasons. 
Considering the year we've had (thanks, 2020), a lot of folks are looking to escape the city and enjoy their cottage in the coming winter months. Others will be closing up their vacation property as usual, with plans to reopen in the spring. 
If you own a cottage or cabin, are you planning on staying at or staying away from it this winter?
Staying at the cottage in the summer is one thing, keeping it open in the winter is an entirely different matter! Whether you plan to keep your cottage open year-round or close it up for the season, you'll need to understand how to winterize it in order to keep from inconveniencing your family and to eliminate frozen water damage to your water filtration system.
If you're a cottage owner, home owner, plumber, or work in the water filtration industry, this Winterizing Water Filtration live stream video and checklist is for you! 
For families that are planning on staying away from the city and escaping to their cottage or cabin for the winter, you may need to make some changes to your water filtration system to make sure it doesn't become damaged from freezing. 
Here are Gary the Water Guy's pro tips on what you need to do to eliminate damage from freezing to your water filtration system. 


IF STAYING AT COTTAGE DURING WINTER:
All exposed piping needs to be insulated and protected to keep them from freezing. If your unit is in an insulated basement or crawlspace, that is best. If not, you can build a small room around where your water filtration equipment and pipes are and have a small heater in it to prevent freezing. 


Protect your drain lines. If you have any water filtration equipment that backwashes (water softener, iron filter), make sure the drain line is protected from freezing if it goes outside. The easiest fix for this is to connect the drain line to your septic system to prevent it from freezing or bursting.


Install a generator. If this is your first winter at the cottage, the possibility of power outages due to frigid weather, falling trees and downed power lines is likely. Make sure you have your water filtration equipment, your UV light, and your pumps all connected to a generator. 


If you draw water from a lake or the water line connecting to your home is very shallow, you'll need to heat that water line to prevent it from freezing. 


IF STAYING AWAY FROM COTTAGE FOR WINTER:
Shut off the power going to your hot water tank if closing your cottage for the winter. 


The day of draining the cottage, plan some extra time to drain all the water from your pipes. This will take longer than you think it does so allow yourself enough time to carry this through!

PRO TIP: Before you begin, make sure you have water available to you to use during the day - for drinking, washing, etc. (water jug, water bottles) 


Shut off the breaker to the pump. If you're not going to be at the cottage/cabin during the winter months, make sure you shut the water OFF. Flip the breaker on the pump or on the valve. Make sure you leave your UV light ON!


Open all the faucets in the whole cottage and let the water drain out. 


Connect a compressor to the water system in the cottage to blow all the water out of the pipes. Set the compressor to 30 psi and connect the drain hose to the washing machine hot water supply to blow through. To the cold water supply, hook up the hose that will empty the water outside. 


Bypass any Iron Filter, Water Softener, Tannin Filter. 


If you have any Filter Housings, remove them, unscrew them and empty out. Put filter housings back on with no filters inside. 


If you have a mini rack or 3-stage Ultraviolet Disinfection System, remove the filter housings, unscrew, remove the filters, and drain the water out by unscrewing the drain plug at bottom. Put filter housings back on. Unplug.
Be sure to leave IN the UV lamp and the sleeve because you'll need to make that secure. 



TIP: Ultraviolet disinfection winterizing is also covered further in this video.

Open the cold water line. With the compressor pressurized, open drain line via hot tap. Air will burst through and push out water. Once you're just getting air out (no water), shut off the compressor. 


Open every fixture/faucet in the cottage all the way on cold and hot taps to blow out water. 


If you have a rinser at kitchen sink or handheld shower wand, make sure that's being drained also. Also keep in mind other things that use water, such as a sauna or outside shower. Don't forget to check your bunkies or outbuildings for things that use water also!


If you have a dishwasher, set that to RINSE and hit START. Once blows out the water, cancel cycle and leave door slightly ajar.


If you have an ice maker, clear and drain that out. 



Drain bathtubs and toilets last. Hold down the handle for 10 seconds then let go. Turn off valve and leave tank off. 


Drain hot water tank. Open spigot at bottom of pressure tank. Since compressor is still pushing air through pipes, open valve after pressure tank base to let a little air out. Leave drain valve open at bottom of pressure tank -- but make sure you remember that it's open when you come back in the spring and close it first!


Disconnect compressor and hoses at this point. Blow out washing machine. 


Flush all water out of drains and overflows on your sink. The easiest way to do that is to use the compressor inside your house. See my pro tip (21:45 timestamp) using the base of a rubber plunger to blow water out of your drains! 


Mop out any water in toilets with a sponge then put plumbing antifreeze in all your toilets, drains and shower stalls. (23:40 timestamp)


If you have a Reverse Osmosis (RO) Drinking Water System, protect your investment by draining it, disconnecting it and taking it back home or somewhere warm for the winter. They are almost impossible to winterize! (24:47 timestamp)


Water Softeners and Iron Filters are fairly straightforward for winterizing. (24:47 timestamp) Check out this great video that goes into details on the whole process! 


If you have a jet pump drawing water from a well or lake at the cottage, you need to remove the drain plug and let water drain out. Add RV plumbing antifreeze to the pump case. If source is lake water, disconnect it and pull out water line, then remove foot valve and store indoors for winter time.

If you have a submersible pump, it stays in bottom of well or lake for the winter.



In the spring, you'll then reverse the procedure! (33:51 timestamp)

As you can see, Gary the Water Guy's step-by-step video live stream is extremely helpful for walking you through how to prep your cottage or cabin for the freezing temperatures ahead. 
Have questions? Check out our YouTube channel for more great how-to videos on tips, tricks, maintenance and troubleshooting of your water treatment equipment from Gary the Water Guy.