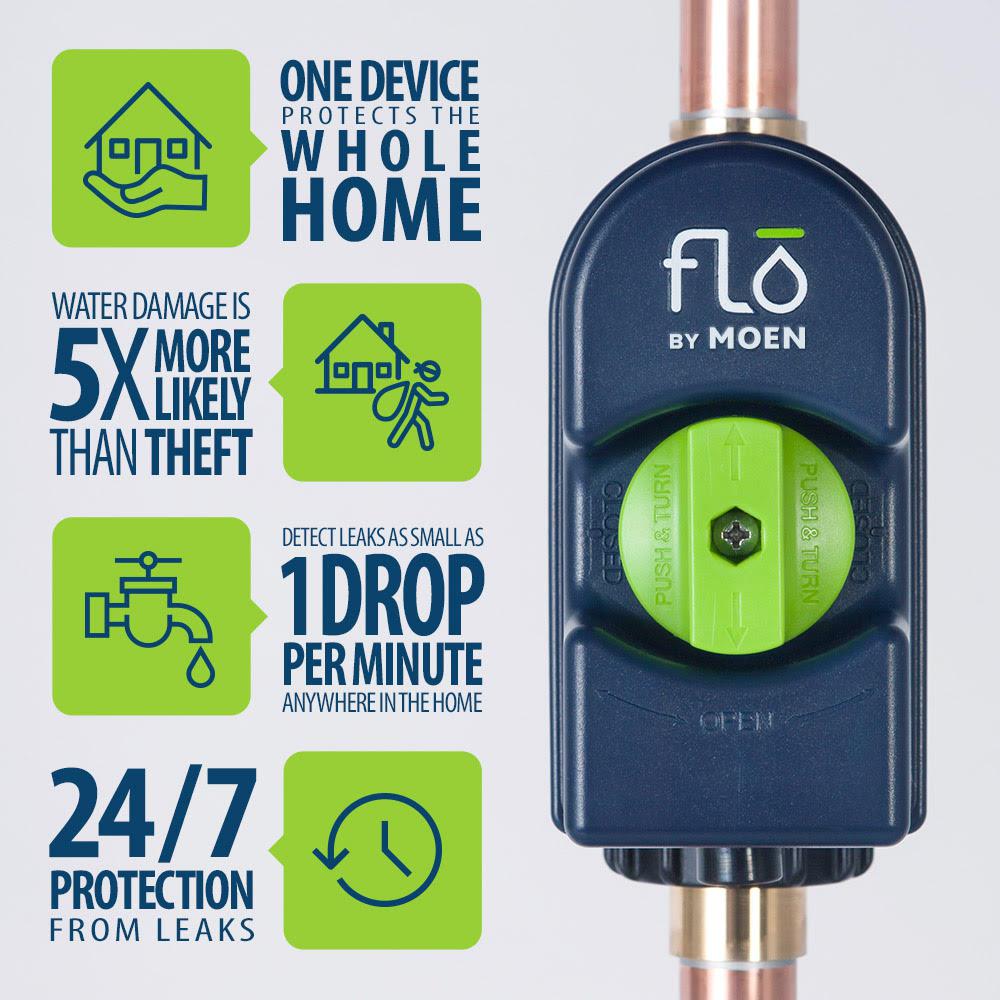 Not sure how difficult it would be to install a Flo by Moen Water Leak Detection and Water Monitoring System to protect you home, cottage or cabin?
You're going to need to have a smart phone, you'll need to have the Flo by Moen app installed and setup on that phone. You'll need power as well as wifi. You'll also need some plumbing tools to cut the pipe, attach the fittings which can vary based on the type of plumbing you have and that's pretty much it!  To install:
1) Pair the smartphone to your Flo device, be sure the Flo device can be paired in the install location. When plugging in, be sure to firmly insert the power cord.
2) The unit will be installed on the main water supply to the home before water splits into hot and cold but after water meter, water shutoff and pressure regulator. It's important to make sure Flo is installed before any filtration system, outside faucet or water heater. You can exclude irrigation system.
3) There needs to be a power supply within 20 feet of the installation location.
4) Shut off water to home, and release pressure by opening several faucets in the home to drain as much water as possible.
5) Determine the exact install location keeping in mind that Flo can be installed vertically or horizontally.
6) Cut the pipe, catch and drain water the remaining water from the household plumbing.
7) Install the fittings using the spacer as a guide to help install the fitting to the length of the Flo device.
8) Wrap Teflon tape around the threads and install the fittings.
9) Install the device, after making sure the o rings are installed and lubricated. Make sure that the arrow is in the direction of water flow.
10) Hand tighten the plastic nuts and then add ¼ turn being careful not to over tighten.
11) Slowly open the water supply and check for leaks. Turn off the water flow at all of your plumbing fixtures.
12) Plug in the power cord making sure it seats properly. Make sure valve is in the open position.
13) Open app and check operation. Note that it takes about 10 days for Flo to learn your water usage habits, until then the system is not protecting your home fully. You can see that not only is Flo by Moen great for every home, but it's perfect for vacation homes, cottages or cabins, especially for rentals, because you can not only detect water leaks you can remotely turn your water on and off when you aren't there to accommodate guests or further safe-guard your home from potential water damage!