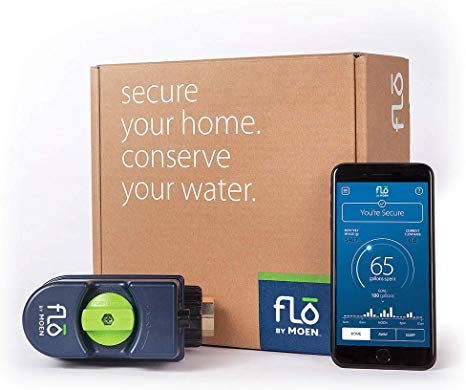 This Flo by Moen Smart Water Shutoff System Leak Detection and shutoff changes everything! Check it out! Comes in this great box, you kind of feel like you're opening an iphone but what you're really interested in is what's inside so let's check it out!
By the way did you know that water damage in your home is more likely to occur than theft and fire combined! You know it's a concern, so let's check out the solution to give your family peace of mind.
Look at this beautiful piece of engineering! You can see how beautiful it looks and the build quality is nothing short of fantastic! Here is the QR code you're going to need to set it up, the manual shut off in case of power failure. There's a built in motorized valve that switches the water supply on and off while monitoring your water 24/7 even when you are away.
What else does it comes with and what does it do? Look at these great instruction booklets with lots of pictures, because as we all know, men love pictures! There is this spacer to help you with the plumbing, and the fittings to attach it to your plumbing with ¾" male adapters. This allen key comes with to help you manually shut it off if you need to when there is a power failure.
Beautiful presentation of a quality product! I know you're wondering, is that all it does is detect a leak and shut off the water? Nope, it does a whole lot more, like: 1) Monitors all the water in your home, cabin or cottage to see how much water you're using.
2) Pairs to your phone to monitor the system but also feeds back the info to you by way of notifications.
3) Detects a leaky faucet or pipe burst so you'll get an alert through the app, an email and a phone call.
4) Detects leaks from a toilet flapper or loose fitting anywhere in your home, cabin or cottage
5) Flo learns your home's water usage patterns and lets you check it out.
6) Monitors water temperature and pressure and will alert you if they become a potential problem
7) It can even detect small leaks in your home that ordinarily might be almost impossible to detect so you can have them fixed to save your family money.
8) You can even view water flow in real time right now, if you choose to.
9) Once it gives you a warning and you fix it you can run a health test to make sure all of the leaks have been fixed.
10) Every night flo shuts off your water and tests the pressure to see if there is a micro leak somewhere, if there's a leak the pressure will slowly drop and it will send you a warning. If the pressure becomes too high it will also send you a warning.
11) If a pipe bursts while you're away, Flo alerts you and shuts off your water to prevent major water damage in your home, cottage or cabin.
12) Other systems offer leak detection as does Flo, but what good is leak detection if you can't stop the water?
13) Can monitor several properties all on the same app.
14) Will notify you if the water temperature drops below freezing.
15) If you are in home mode, if there is an unusually high flow rate the device will alert you by notification, text and phone call. If it does not hear from you, it will shut off the water after 5 minutes.
16) If you are in away mode, it will only allow the water to run for 10 seconds at that high flow rate before shutting off your water and notifying you.
It's a much better solution than sensors, because just because sensors are detecting a leak, they're not stopping the water. I can't wait to install it in my house! So what else do you need to know, well it needs power to operate and since it's pairing to your phone you'll also need wifi, that's all. Perfect for every home, cottage or cabin, especially for rentals, because you can not only detect leaks you can remotely turn your water on and off when you aren't tat the property to accommodate guests or further safe guard your property from potential water damage!