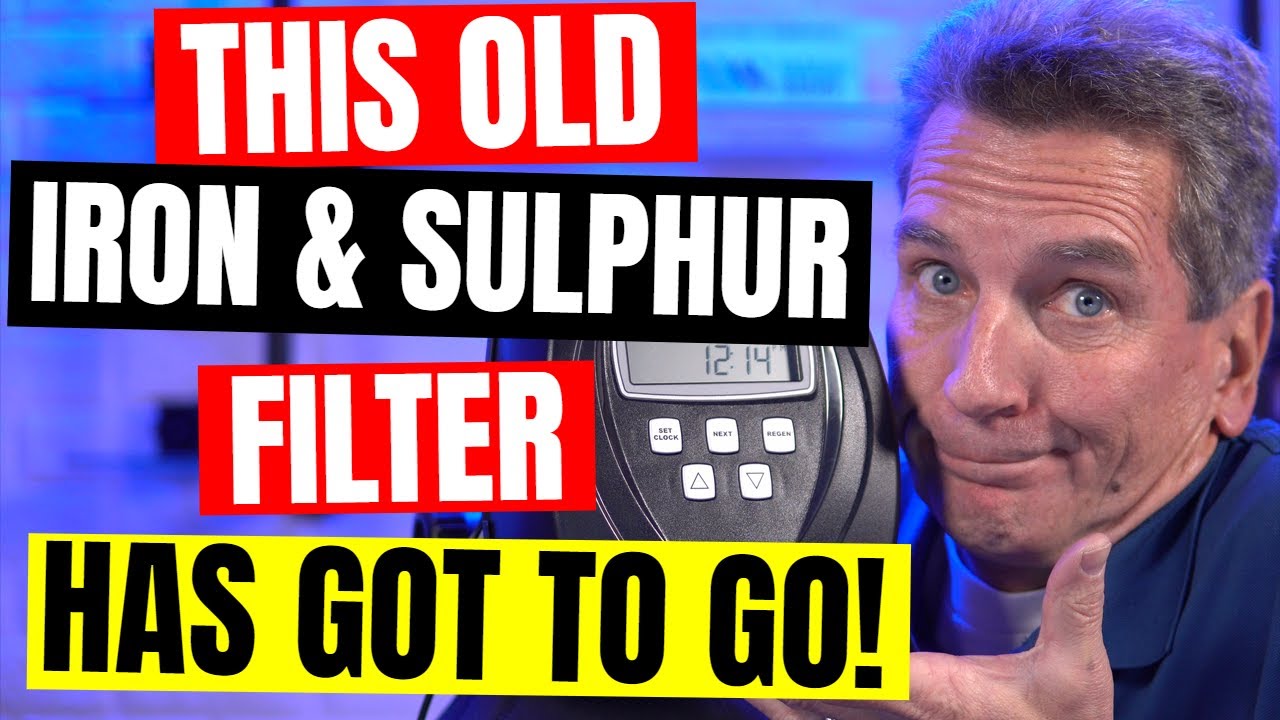 Maybe you've invested a good amount of money in your home's iron and sulphur water filter system, many years ago. Or perhaps you inherited a system from the previous owners, and you'd rather not invest in a new one just yet.
In either case, your perfectly good iron and sulphur water filtration system may not be working so perfectly right now. It may work "okay" but a new Air Over Media HUM FOB iron and sulphur filter (which doesn't need a Mazzei with bypass) would give you far more water flow. It would also take up less space and be easier to maintain. Double bonus!
Today, we are going to walk you through how to swap out your old Air Birm iron and Sulphur filter as I did at my house. The procedure is exactly the same whether you're replacing with an FOB, FOC or FOK.
If you're looking for more information on these systems, please click here.
When to Replace Your Iron & Sulphur Water Filter
Your current iron and sulphur filter may be doing an okay job getting rid of those iron stains and that sulphur smell from your well water. However, if you upgrade, you will improve the flow by eliminating the Mazzei with bypass.
That Mazzei with bypass method of drawing in air significantly restricts the flow of water to your home for your family. A new HUM FOB/C/K does not require that restrictive method of sucking in air to oxidize the sulphur and iron.
Also, if your system is over 10 years old, it's probably time for an upgrade.
Can I Replace My Own Iron & Sulphur Water Filter?
If you have experience working with your home's plumbing system, replacing your current iron & sulphur water filter is likely something you can do on your own. 
If you're not experienced in those areas, you might want to consider calling in a professional.
To give you an idea of what you will need to do, watch this walk-thru video to see exactly what's involved. 
How to Replace Your Home or Cottage's Iron & Sulphur Water Filter
Here are the steps you should follow to replace your current Iron and Sulphur water system with a new one. For a visual aid, watch the walk-thru video above!
Let's begin:
Shut off the water to the pump and drain the pressure tank.
Remove the Mazzei/bypass and reconnect the plumbing.
Shut off the valve after the iron filter to keep water from draining back from the whole house.
Remove and replace your drain lines.
Use ¾" FPT to ½" pex fitting for the drain connection.
Disconnect all of the plumbing.
Remove and drain your off-air tank and media tank.
Connect plumbing with water flowing through the FOB before the softener, then on to the UV.
Turn your water back ON and refill the pressure tank. Don't forget to check for leaks.
With the FOB/FOC/FOK in bypass, open the valve to supply water to your new system. Check for leaks.
Put your FOB/FOC/FOK into a backwash cycle, then open the bypass inlet ½ way and start to fill your tank.
Once water flows without air, open the bypass all the way.
Let your FOB finish and complete the cycle.
To be on the safe side, go to your bathtub and open the tap to get rid of all the fines that may have been introduced during the installation process and run your water until clear.
Again, if all of that seems a bit out of your comfort zone, we recommend you call a professional.
Is it Time for a New Iron & Sulphur Water Filter?
We offer the industry's best and most reliable Iron and Sulphur Filters and stand behind them with the best service and support. 
Ready to find the best unit for your family? Visit us at waterestore.com.