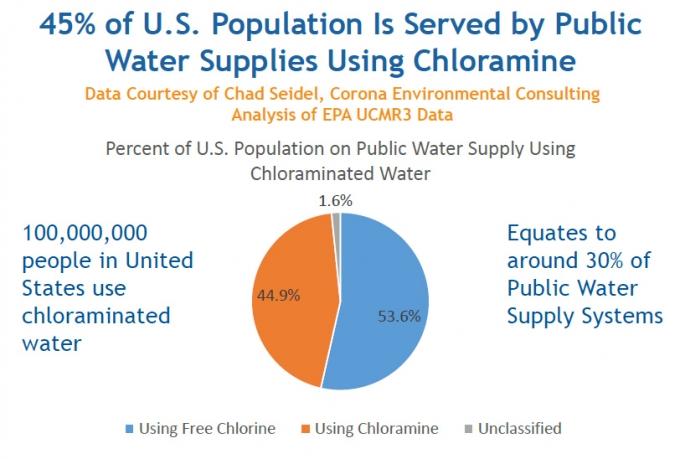 Most municipalities have used chlorine for the disinfection of their city drinking water for a very long time. Recently there's been more municipalities switching to chloramine as a residual disinfectant.
Chloramine stays in the water longer than chlorine which makes it more difficult for the home owner to remove from their families water. Knowing whether your city is using chlorine or chloramine will help you choose what you need to remove this disinfectant from your families water.
This list of US cities, by state, use chloramines for disinfection of their drinking water.  You can also call your municipality to find out if they use chlorine or chloramines.  This blog post talks about what you need to get rid of chlorine and chloramines from your drinking water. Check out our Water Saver 75 Reverse Osmosis Drinking Water System and our Centaur Carbon Whole House filter for Chloramine filtration for your family.
ALABAMA
Birmingham
Huntsville
ALASKA
Anchorage
CALIFORNIA
San Francisco
Anaheim
Fontana
Huntington Beach
Long Beach
Oakland
San Diego
San Jose
Concord
Chula Vista
Corona
Escondido
Fremont
Garden Grove
Glendale
Hayward
Irvine
Los Angeles
Moreno Valley
Orange
Pasadena
Simi Valley
Sunnyvale
Thousand Oaks
COLORADO
Denver
Aurora
DISTRICT OF COLUMBIA
Washington
FLORIDA
Miami
Tampa
Coral Springs
Fort Lauderdale
Hialeah
Hollywood
Pembroke Pines.
Petersburg
ILLINOIS
Aurora
INDIANA
Indianapolis
Evansville
KANSAS
Topeka
KENTUCKY
Louisville
LOUISIANA
New Orleans
Shreveport
MINNESOTA
St. Paul
MICHIGAN
Ann Arbor
MISSOURI
Kansas City
St. Louis
Springfield
NEBRASKA Omaha
NORTH CAROLINA
Durham
Raleigh
Oregon
Greensboro
SOUTH DAKOTA
Sioux Falls
TEXAS
Arlington
Austin
Fort Worth
Houston
Abilene
Grand Prairie
Irving
Larado
Lubbock
Mesquite
Plano
Waco
VIRGINIA
Alexandria
Arlington
Newport News
Norfolk
Richmond
Virginia Beach
WISCONSIN
Milwaukee