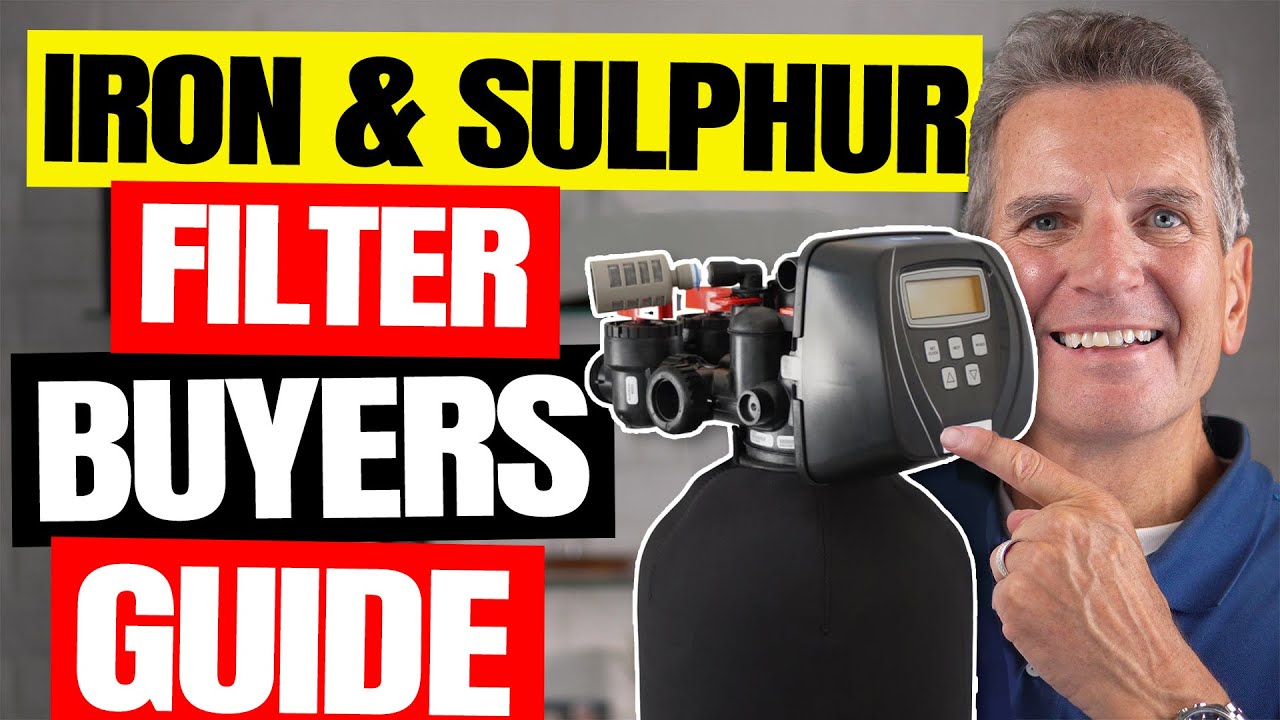 Are you tired of dealing with that nasty odour and taste of iron, sulfur, and other contaminants in your well water? Installing an Iron and Sulfur water treatment filter in your home can be the answer to ensuring clean drinking water for the whole family.
With this helpful buyer's guide from certified water specialist, Gary the Water Guy, you'll get a deep dive into what an Iron and Sulfur filter is as well as why it could be exactly what your home needs!
In the video below, Gary is also joined by Ana from our customer service team to help share with you what to look for when investing in an Iron and Sulfur Filter for your family. By the end of our buyer's guide chat, you'll know what to look for, what type of water filtration system you'll need, where to find it — AND what you should definitely avoid!!
What is an Iron & Sulfur Filter?
Gets rid of iron staining from your family's well water
Gets rid of that rotten egg smell from your well water
A chemical-free system
NO filters to replace
Types

of Iron & Sulfur Filtration Systems

Are you looking for the ultimate solution to filter out iron and sulfur from your water supply? You have multiple options to choose from:
Chemical injection systems
Ozone systems
Chemical-free systems
Greensand systems using Potassium Permanganate
With all of these filtration systems, you'll be saying goodbye to unpleasant odours, metallic taste, and staining caused by impurities and be able to enjoy crystal-clear water that's safe for all your household needs.
We're going to dive into how these systems work right now so you have the information you need to make the right decision and a great investment for your family today.
FAQ

 
Iron and Sulfur Filters are powerful water treatment systems designed to filter out unwanted minerals and impurities, leaving you with water that's just right for cooking, washing, and more. But how do they work? And do you need a water softener too? Whether you're a DIY pro or looking for a little extra help, we've got the information and resources you need to find the perfect solution for your home. 
1) How does it work? 
FOK Iron and Sulfur Filters are 100% chemical-free and don't have any filter cartridges to change either. They use air to oxidize the iron and sulfur from your water! 
To learn more about how a Chemical-Free Iron and Sulfur system works, check out this video. 

2) Do I still need a water softener? Yes. If you have hard water, an iron filter is not going to soften your water so you would still need a water softener.  For optimal filtration and system performance, the Iron and Sulfur filtration system should be installed BEFORE the water softener and before a UV system in your home. 

3) Can I install an Iron and Sulfur Filter myself? Absolutely! Once you know what size of system you need and if you have the proper water flow rate to accommodate an Iron and Sulfur filter system, you can easily install one of these great systems. It's even simpler to install than a water softener! 
We provide tons of great DIY videos on our YouTube Channel from Certified Water Specialist @GarytheWaterGuy to help you with all your water treatment needs. Check out our Iron & Sulfur Installation video playlist here now!
How to Calculate the Flow Rate from Your Well Pump
There are certain times when you'll need to calculate the flow rate in Gallons per Minute (GPM) from your well pump, specifically when you want to install an Iron and Sulfur filtration system. It's actually a fairly easy process and calculation. Follow the link below to determine your family's well water flow rate!
Considerations
Gary and Ana have put together a quick list for you of what shoppers should always look for in an Iron & Sulfur filtration system. Here it is:
✅
Compatible with your plumbing flow rate!
✅
Avoid Big Box Store all-in-one solutions.
Ownership Tips

 
Iron and Sulfur filtration systems can be n

oisy initially during regeneration. D

on't let your filtration system disrupt your sleep! Set the regeneration time to a time that won't wake up the family.


Make sure to set your system to regenerate every three days to ensure optimal performance.


If you have other water treatment systems in your home, be sure to install the Iron and Sulfur filter BEFORE your water softener and UV system!
We hope this blog has provided you with a great overview of all the information you need to know before you buy an Iron and Sulfur System for your home, cottage, or cabin. With these great tips from our water treatment experts, you can say goodbye to impurities in your water and hello to peace of mind!