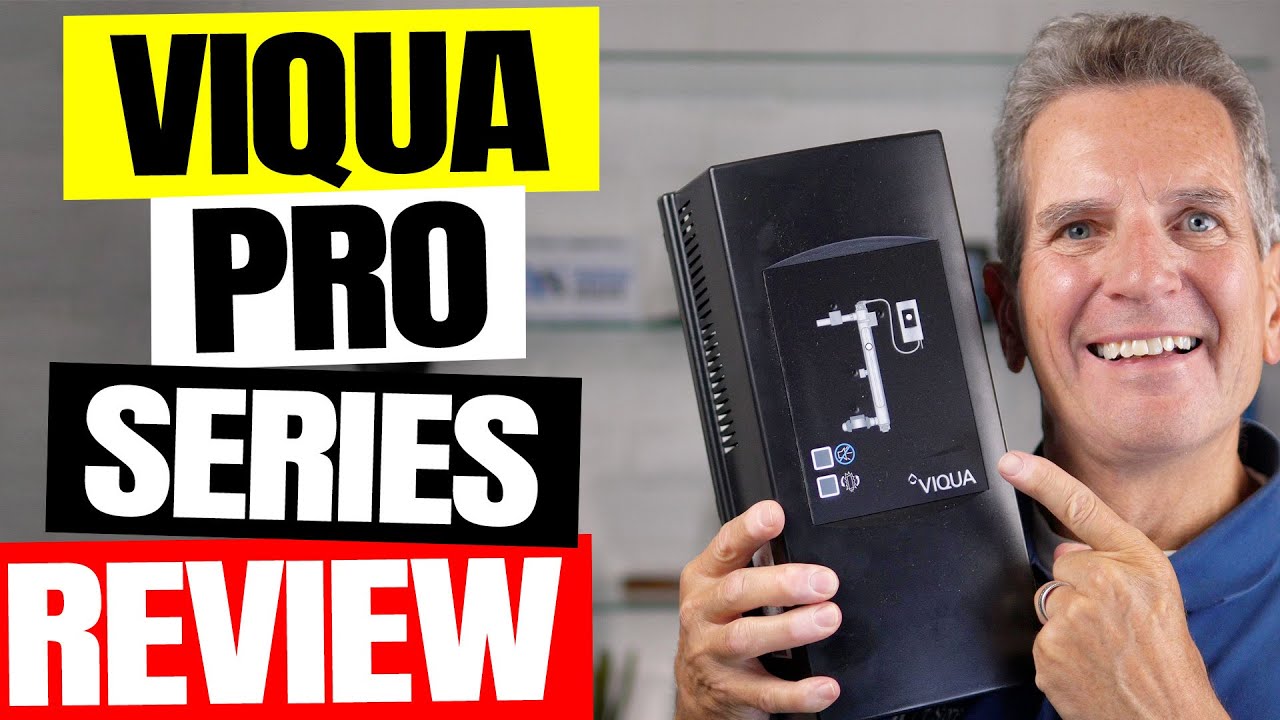 Are you looking for an unbiased review of the Viqua Pro UV Disinfection system to decide if it's right for your home or small commercial project? We've got you covered! Today I'm sharing all the essential info about these ultraviolet (UV) disinfection systems that can help you make an informed decision and ensure bacteria-free well or lake water at all times. 
Whether you're a DIY homeowner or plumber this product review is definitely for you. We'll assess the Viqua Pro series in terms of performance, reliability and numerous other parameters to give you the information you need to make the best choice before investing in one of these systems for your planned project. So let's get started with our independent product review on the Viqua Pro Series now!
BEFORE WE BEGIN
If you're not sure how UV systems work, I have a great YouTube video here that explains the whole process. Check it out then come back to get started!
TO BUY OR NOT TO BUY THE VIQUA PRO SERIES
Performance - 10/10
A consistent and proven bacteria kill in both lake and well water. Viqua UV's are NSF 55 Class A and WQA certified to ensure their consistent performance. 


Capacity - 10/10
The capacity in this case is the UV's ability to kill bacteria which is limited to the flow rate. Since these four models cover from 10 to 50 gpm you just invest in the one whose maximum flow rate is higher than your pump's flow rate to make sure that you are covered. 


Cost to Operate - 8/10
While flow is passing through the UV it's using 120 watts, but during periods of no flow, or flow of 2 gpm or less, the Lightwise technology dims the light and power consumption drops to a low 60 watts power consumption. These replacement lamps, although readily available at a variety of sources, are definitely at the higher end of the price scale for this size of UV, but they do last 2 years. 


Ease of Installation/Use - 9/10
Viqua's relatively small chamber size and reversibility make them very easy to install for plumbers, contractors and do-it-yourselfers. They come with an installation kit as well as super easy-to-follow directions. The stainless steel reaction chamber needs to be installed vertically.


Features - 9/10
These Viqua Pro 10 Ultraviolet Disinfection systems have a built-in timer which will alarm when a biennial lamp replacement is due (every 2 years).

 

They include a flow meter, which doubles as a flow restrictor.

 

The already mentioned Lightwise technology dims the lamp to save energy and money during low or no flow times.

 

The controller will alarm at times when the lamp is not working but also, if there are concerns about diminished UV dues to maintenance issues while also monitoring the fan and flow meter performance.


Parts Availability - 9/10
These systems are made in North America—Canada, actually—so parts are readily available from the manufacturer through any number of distributors. Since this is a non-proprietary product, parts are also readily available from any water treatment dealer—including online from Water eStore!


Longevity - 8/10
The ballasts in these UV's have been somewhat problematic, occasionally lasting only a few years before requiring replacement. I definitely suggest you plug them into a surge suppressor to extend their life and always use genuine Viqua replacement lamps.


Reliability and Build Quality - 8/10
Very substantial build quality.

 

Due to the number of ballasts having a short life span, customers have mentioned that they have been disappointed in the past with them not lasting as long as they hoped.


Initial Investment - 8/10
These Viqua Pro series UV's are a premium item and are priced accordingly. The difference in investment between these 3 models is substantial so be sure to check your flow rate before choosing the best model for your family. They do come with the UV lamp, sleeve and flow meter already in the box, but you will need to order the solenoid shut-off separately.


Styling/Aesthetics - 10/10
These Viqua Ultraviolet Disinfection systems are very well-built and look great when installed.


Customer Support & Warranty – 10/10
Viqua offers the best customer support that I have come across in the business!

 

They are knowledgeable, available, and if a UV lamp or other item is defective, they will quickly replace it under warranty. Great service!




Gary the Water Guy's Overall Score = 90/100
Pros: Great support, easy-to-follow manual, very accessible replacement parts, easy DIY install.


Cons: Some past longevity and reliability issues with the ballast, high initial and ongoing consumable cost, but you remember you get what you pay for. 


So What's the Verdict?
I rate these as a great choice for any project that requires an NSF 55 class A monitored, full-featured UV system. 
Shop the Viqua Pro Series UV System
Viqua Pro 10 >> BUY NOW
Viqua Pro 20 >> BUY NOW
Viqua Pro 30 >> BUY NOW