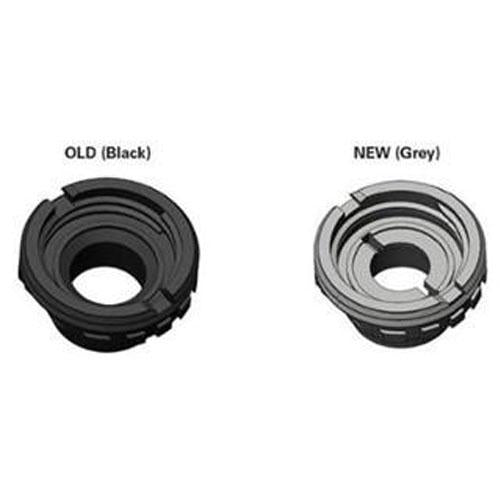 Note: Do not touch the lamp or the quartz sleeve with your fingers. Handle by ends only or wear soft gloves.
As part of our Viqua's commitment to continuous improvement, they have made some modifications to the sleeve bolt in all VIQUA powered by UVMAX and UVMAX systems that results in an improved lamp and sleeve replacement process. Replace as follows:
1. Place o­ ring on the quartz sleeve.
2. Insert quartz sleeve into the chamber and ensure it is properly centered in the chamber.
3. Screw in new grey sleeve bolt.
4. Insert lamp into the quartz sleeve and thread into sleeve bolt until hard stop.
The previous sleeve bolt design allowed for pre­assembly of lamp, quartz sleeve, and sleeve bolt, however this process increases the risk of misaligning the quartz sleeve, resulting in damage to the sleeve. This new sleeve bolt uses one o­ring instead of the two o­ rings required with the previous black sleeve bolt design, and the replacement part number remains the same: 602665. Replacement lamps and quartz sleeves now include the new sleeve bolt, along with a single o­ ring, and an instruction sheet for the purpose of replacing the old sleeve bolt on systems already installed.
This procedure applies for Viqua and Trojan UV Max Model Numbers: A to F and IHS12-D4, IHS22-D4 IHS22-E4.