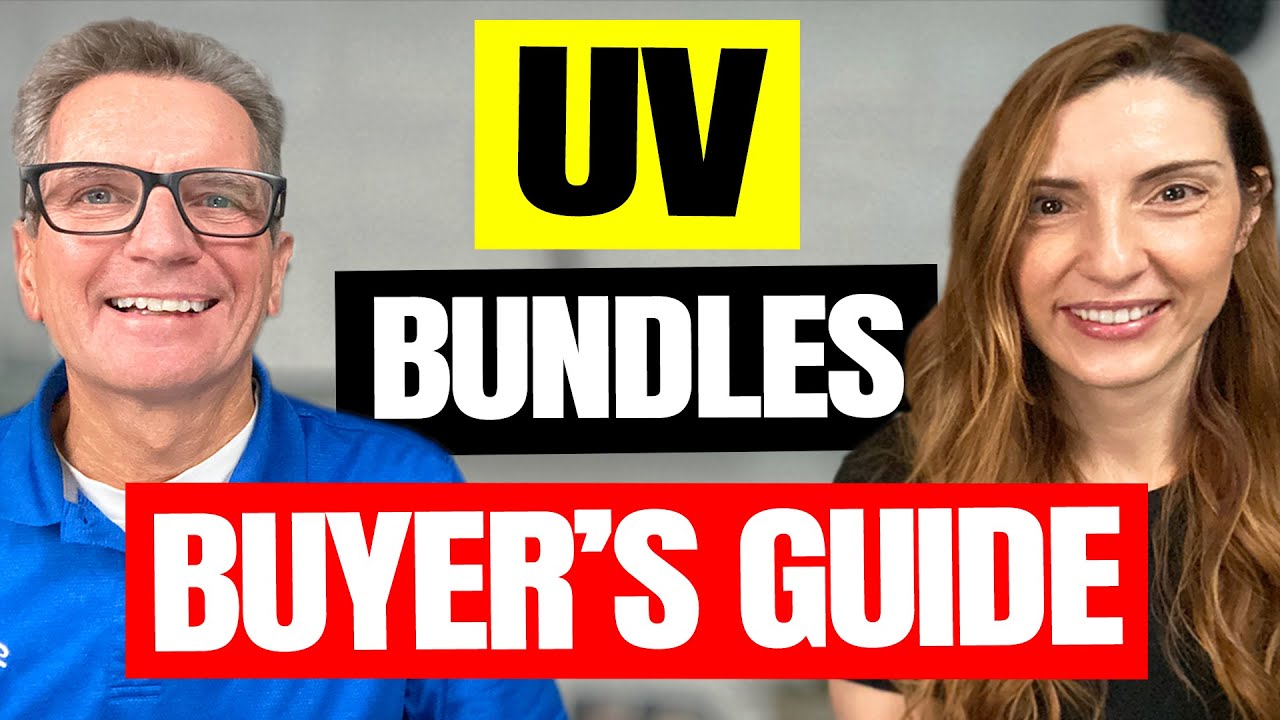 Do you need a new UV lamp and filters for your Minirack UV system but don't know where to start? Don't worry, we've got you covered. I'm Gary the Water Guy and I'm all about simplifying water filtration for families like yours. That's why I've teamed up with Ana from our customer service team to help you navigate the process of finding the right replacements.
In this blog post, we'll give you expert advice on what to look for, which types you need, where to find them, and what to avoid. You'll be able to confidently conquer your water filtration needs and keep your family healthy and happy!
What are Filter Change Bundles anyway?
If you're curious about Filter Change Bundles and their benefits, we've got answers! These bundles provide exact replacements tailored to your system, at a reduced cost compared to purchasing each item individually. Rest assured that these are OEM original parts from the manufacturer and will help keep your system running smoothly!
Types of UV Filter Bundles
By brand of system.
Come with filters, lamp and sleeve.
Come with just filters and lamp.
Just filters – Combo Packs.
UV filter bundles allow you to choose your specific UV brand and model bundle, each bundled with the correct filters, lamps, and sleeves, or opt for a simpler package with filters and lamps only. 
>> Find a full range of reliable & cost-effective UV filter bundle solutions here!
UV Filter Bundles FAQ
What's the advantage of a UV Filter Bundle?
UV filter bundles are a convenient and cost-effective solution for those looking to keep their water safe, clean, and free of harmful contaminants by getting the correct replacement filters and UV lamps when it is time for a replacement.  These bundles provide the advantage of the correct filters and UV lamp coming in a package so you don't need to source each one individually AND you save money in the process! Regular maintenance with the correct UV lamp and filters ensures that your water stays not only great tasting but is also free from bacteria, viruses, and other microorganisms that may be present in your water supply.


How do I install these UV filters?
Maintaining your UV lamp and filters is a relatively simple process, and can be done by following the manufacturer's instructions carefully, or by watching our selection of easy-to-follow DIY videos on our Gary the Water Guy YouTube channel!

>> For pro DIY tips on maintaining your UV and replacing these UV filter bundles yourself, check out this easy-to-follow tutorial video from Gary the Water Guy!


Can I get these automatically every year?
If you're interested in ensuring that your water supply remains safe, clean, and healthy, you may also be wondering if it's possible to get these UV filter bundles automatically every year. Fortunately, many manufacturers and distributors like Water eStore offer automatic replacement programs that can be customized to meet your specific needs. With these programs, you can schedule regular deliveries of replacement components to ensure that your system always operates at peak efficiency, without having to worry about ordering replacements manually. 
>> Watch our helpful DIY video on "How to REPLACE LAMP & FILTERS in VIQUA IHS12 D4, IHS22-D4 or IHS22-E4 UV Systems" right here!
>> Check out our video on "EASY 9 Step HUM SAFE WATER 10 UV Lamp & Filter REPLACEMENT" here!
Considerations
Wondering what should you look for and what should you definitely avoid? Well, when it comes to choosing the best UV filter bundle for your water filtration needs, there are a few critical factors that you should consider.
Genuine OEM replacements.
Complete kit for your brand of system.
Access to YouTube videos for easy DIY.
Customer service rep available when needed.
Firstly, it's always recommended to opt for genuine OEM replacements to ensure reliable and consistent performance. In addition, you'll want to ensure that you're selecting a complete kit that is compatible with your specific water system brand, as this will help to avoid any potential compatibility issues down the line.
Another helpful consideration is to look for bundles that provide easy-to-follow installation instructions, like Gary the Water Guy's helpful DIY YouTube tutorials, which can make the DIY process simpler and more straightforward.
Finally, it's important to choose a supplier that includes access to knowledgeable customer service representatives who can answer any questions you may have and provide support as needed.
Ownership Tips
For peak efficiency, it's important to follow a few key ownership tips. Firstly, be sure to replace your filters and lamp on a yearly basis to maintain optimal filtration and sterilization capabilities. This will help to ensure that your water is free from harmful contaminants and microorganisms, keeping you and your family safe and healthy.
Additionally, you should regularly check and clean the sleeve that surrounds your UV lamp, as this can become dirty or damaged over time. If you find that you are unable to get the sleeve completely clean, it's likely time for a replacement. A dirty or damaged sleeve can impair the performance of your UV filter bundle, so it's essential to keep it in good condition to ensure maximum effectiveness.
To recap, be sure to:
Replace filters and lamp once per year.
Replace sleeve when you can no longer get yours clean.
By following these simple ownership tips and keeping your UV filter bundle well-maintained, you can enjoy clean, pure, and refreshing water in your home or business yourself. If you have any questions or concerns about your Water eStore UV filter bundle, feel free to reach out for guidance and support.
>> Shop the HUM Safe Water 10 GPM Minirack UV System here!
>> Shop the HUM Safe Water 10 Lamp, Sleeve and Filters Bundle here!
>> Learn more about Minirack UV Systems in Gary the Water Guy's helpful YouTube video playlist here!