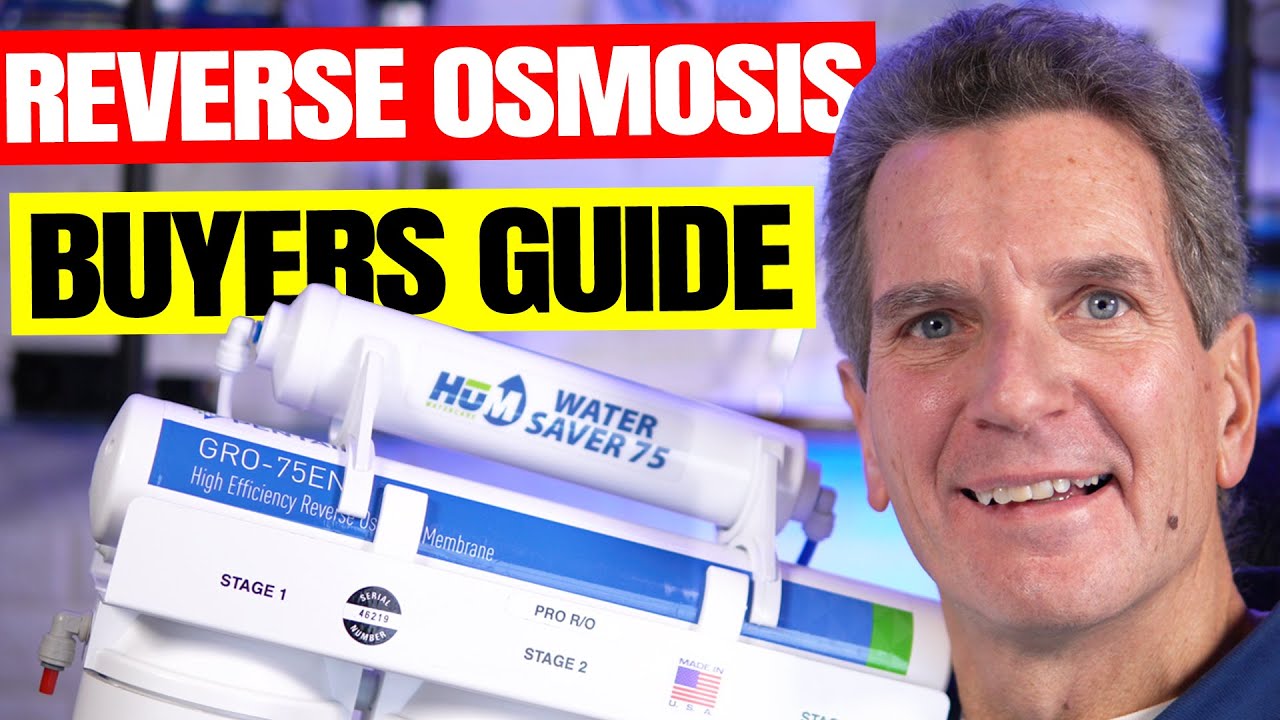 Is your family ready to take the plunge and invest in a Reverse Osmosis Drinking Water System for your home or cottage? Gary the Water Guy is here with Ana from Water Store's customer service team, providing all of their expertise on what to look for when shopping around.
Whether you want advice on choosing the right system or tips about what features are must-haves (and which ones should be avoided!), we've got it covered in today's blog. Let's get started!
What is a Reverse Osmosis Drinking Water System and why would I need one for my family?
Having clean and safe drinking water is essential for the health of your family. A Reverse Osmosis Drinking Water System — or RO system — can help you achieve this, removing up to 90% of impurities like chlorine, chloramines and fluoride from your tap water while also reducing the waste and environmental impact of disposable plastic bottles. This leaves you with super pure drinking water for your family at home or the cottage!
Click below to learn more about how Reverse Osmosis works then come back to this blog to continue on!
Types
 of RO Systems
Standard efficiency

High efficiency

High flow

Remineralization
When it comes to reverse osmosis systems, there are standard and high-efficiency versions available. The main difference between the two is in their water waste output. With a standard system, more water is lost as a result of purifying the supply. However, if you choose an energy-efficient model like our Water Saver 75 - which uses half of the standard system's wastage amount - then your personal filter can be both cost-efficient and environmentally friendly!
High-flow reverse osmosis systems stand out from the crowd with their larger 3.8-inch tubing that offer higher water flow. For those who want to restore beneficial minerals back into their water, you can add on a remineralizing filter which will go through one final pass after all of the water has been filtered, and also adjust your water's pH levels to make it alkaline!
Considerations
If you're researching Reverse Osmosis Systems and wondering what you should look for, check out our quick guide below. 
Made in North America.
Non-proprietary replacement filters — 

more affordable and easy to find.

3/8" tubing to tank and faucet for high flow.
Avoid Big Box Stores — 3-5 years, no parts, no support.
FAQ
Q: How does an RO system work? 

Gary has shared an incredibly informative video below that demonstrates exactly how reverse osmosis systems operate — check it out! For a quick answer, however, RO systems function like this. Your water goes through four filters and a membrane to remove impurities and is then held in a storage tank until you turn on your tap! 
Q: Where can it be installed?
REVERSE OSMOSIS INSTALLATION Tips, Tricks and Disasters" video is for you!
If you are getting ready to install your own Reverse Osmosis Drinking Water System and have no idea where to start or just want to know more about RO installation best practices, Gary's "
Q: Can it be connected to a fridge too?
Yes, reverse osmosis systems can also connect to your fridge! If you have a fridge that dispenses water or makes ice, you can actually tee off the reverse osmosis fridge as well. 
Q: Where can I find a quality RO system?
Water eStore carries a variety of high-efficiency Reverse Osmosis systems for your home or cottage. Enjoy pure drinking water on tap today!


Q: Which RO Filters do I need?
There are two types of Reverse Osmosis drinking water systems when it comes to their filters: proprietary and non-proprietary. If you need to replace your RO filters but have no idea what you need or where to get the filters, check out the video link below for help determining the filters you need. 


Q: Can I easily install a Reverse Osmosis system myself? If so, how?
if you're thinking about improving the drinking water for your family by installing a reverse osmosis drinking water system — either by installing it yourself or having a plumber install one for you — you want to make sure you know what to look for when planning and completing the RO installation. Check out this video to learn how to install a Reverse Osmosis drinking water system for your family — along with some great tips from a pro on how to avoid installation disaster!


Q: What are some Reverse Osmosis myths and misconceptions? 
Ever tried Reverse Osmosis water? People have very different opinions on the matter — while some claim they love it, others caution against its possible environmental impact and nutritional deficits. So what should you make of these contrasting views? Is Reverse Osmosis actually a healthy choice for your drinking water supply or are there better alternatives out there? Let's investigate!
Ownership Tips
 to Keep in Mind
In order to keep your RO System in tip-top condition, remember to swap out the filters annually. If you're looking for an efficient way to save space under your sink, consider installing it in a basement or adjacent room instead. Additionally, if your refrigerator is equipped with an ice maker or water dispenser then make sure you have it connected, too.
Testimonials
Best experience
Todd S. on Feb 18, 2022
"Ever since I came across this store it has been very satisfying. Gary and his team go over the top to help with every need, even with the hard times with Covid and dealing with shipping problems that were out of their control they always kept you up to date when supplies were surmised to show up. In the end, they still came sooner than expected! His YouTube videos have all the info you need to install your system properly, any questions I had about the installation, he always emailed back in a very quick manner. Can't say enough good about this company!!! I will be a long-time customer in the years to come and will recommend to anybody that has water needs."